Dispossession
Period: 27 April 2018 – 6 May 2018
Artist: Heidi Locher
Location: Trace Projects, Berlin, Germany.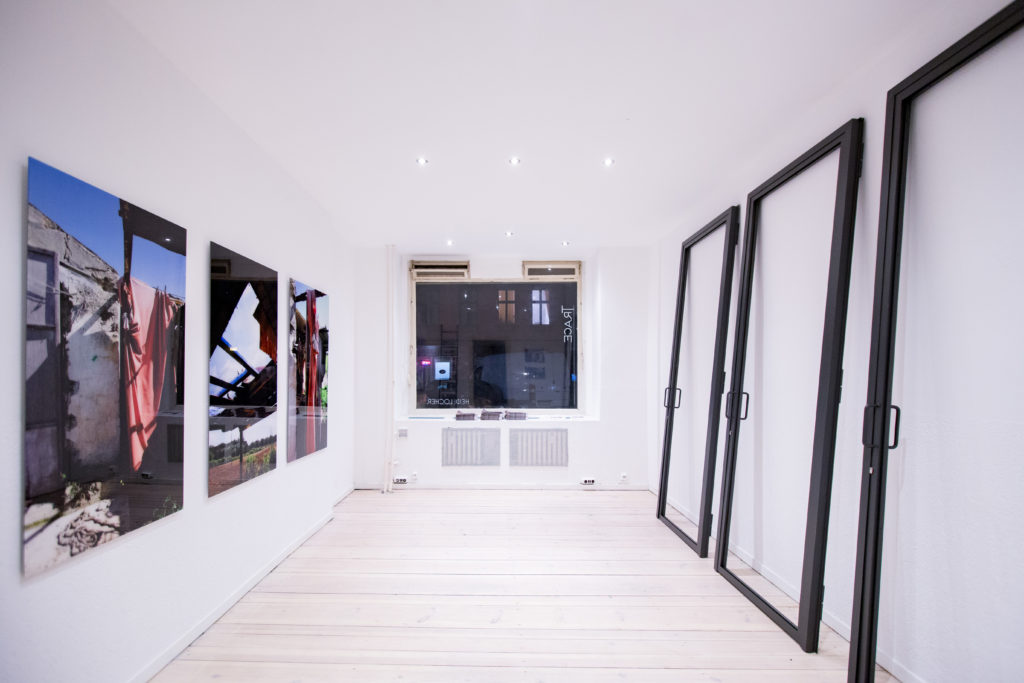 Full Press Release:
The relation between architecture and art is an ongoing dialogue evolving through concepts and materials. In the architectural practice, there may be no room for improvisation in blueprints or construction, however it is still possible to discover architectural sites where untrained builders produce spaces for living, working and resting. Despite the lack of formal architectural education, these more improvised structures encompass core elements of architectural design in inventive and imaginative ways, often creating places of sanctuary and repose.
Heidi Locher's new body of works is inspired through her personal observations of one such striking structure, sitting in the empty landscape, just outside Lecce, Italy. Using a collection of objects, tools and architectonic remains, a hut was built. The structure itself had been reconfigured over generations, by  many coexisting architectural elements, both permanent and temporary, reflecting the demands of the hut's use over time by local farmers, migrant workers and those seeking shelter and respite.
The artist, also an renowned architect, has created an unique installation that evokes this existing space through sculptural objects, photographic images and video elements. By isolating and enhancing details, Locher illustrates the tension that exists  between architectonic construction and improvisation. The building is isolated from its transient inhabitants in order to focus on the universal and more curious qualities of the structure.
Through a photo-roman, Locher presents a full investigation of the hut and its parts. In a detail, the uniform fabric attached to the right side of the hut manifests a mythical power, and in its fluid movement is simultaneously a window, a wall and a door. Beyond its precarious construction lays unimagined architectural possibilities and hidden memories.
In the sculptural elements of the exhibition, Locher is attentive in exploring the meaning of doors as weighted representations of threshold, movement and discovery. Three metal-frame doors are resting on the wall, negating their original intention of the threshold. Although the sculptures might behave as found objects, the reconstructed door frames typically occurring doorknob is here replaced by an almost unnoticeable handle integrated with the overall frame. All aspects of their structure, such as material, colour and dimensions were created. The recognisable door imagery is replaced by a dream-like object  that takes its symbolical place in the space. 
In additional to the sculptures, Heidi also uses photographs in different printing techniques and projection to convey the hut imagery and strength, allowing visitors to experience this unique space through the artist's cautious and trained eyes.
"It is so interesting when one of your brightest students, who went on to build remarkable and radical houses, changes tack to become an artist. I believe that Heidi's work as an artist has synthesised all her previous experience as a designer into an original mode of art and installation in a way that gives it unusual vitality and originality." Sir Jeremy Dixon, Architect
HEIDI LOCHER
Heidi Locher graduated in Architecture from the RCA in 1982. In 1985, she and partner Richard Paxton founded the award-winning Paxton Locher Architects, later designing some of the most celebrated private homes in London and buildings such as Soho Theatre and the Jerwood Gallery. Locher graduated from a Fine Art Masters at Central Saint Martins in 2006 and set up Studio Locher the following year, creating a practice that embraces both architecture and fine art. Intensity, atmosphere and mood have been the credo, 
"To wrestle with outer beauty, the measure of things, as well as inner beauty, the core of things." Peter Zumthor, Architect
TRACE PROJECTS BERLIN
TRACE Projects is a new artist-run project space in Neukölln, Berlin, hosting exhibitions, screenings, workshops and other events dedicated to contemporary art and experimentation.