meditations: on site, subject and samples
Period: 15 June 2018 – 24 June 2018
Artist: Randi Renate
Location: Trace Projects, Berlin, Germany.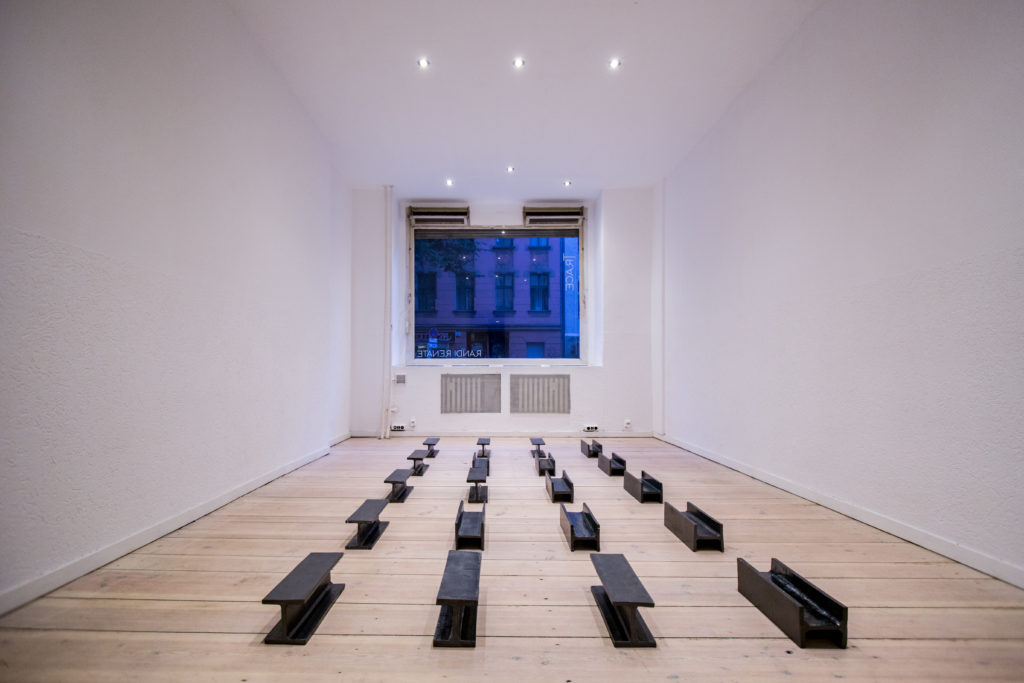 Full Press Release:
Construction as site and as a process are two intersected, although diverse, sets of ideas and actions. The construction site is a space of impermanence and inaccessibility. It revolves around ideas of structure, home and functional architectural spaces that are still impersonal and coming into being. They are transient states aching for resolution. In contrast, the process of construction is in itself a journey, full of intermittent pleasures and revelations. Whilst constructing and creating, one delves into a practice that can be therapeutic or meditative: the act of repetition, adjustment and attentiveness all being part of the creative process.
In "meditations: on site, subject and samples", Randi Renate explores the language of architectural objects and construction materials. The objects were all individually sculpted by the artist from black ceramic in a meticulous process of proportion, angles, and smooth surfaces. Within this handmade process, she immerses herself into the task of creating forms that model themselves on their real industrial counterparts.
As objects the I-beams can be seen as an impersonal representation of the real, usually steel, I-beam, originally designed to be load-bearing and stress-resistant. Here, these ceramic objects are rendered fragile in their new nature and delicate in their subtle metallic glaze. Structural beams act as skeletons to our architectural surroundings. They are sturdy, unbending and impersonal. In contrast, ceramics are positioned within a feminine craft formed by attention to touch—soft and delicate.
Through repeated and interspersed glazing, the artist presents unmistakable visual cues of metal surfaces that varies between the matte steel surface and their lustrous counterpart. The variance of the second glaze functions as a representation of the arbitrary effects that time and environment have on these metal surfaces.
For this installation, Randi Renate presents 20 I-beams configured in the space through a methodical pattern. Quickly the visitor's gaze is drawn to this momentary puzzle that leads to an exploration of the space in a determinate path. Such a configuration is in itself transient, creating an ever-changing interplay between the sculptures and exhibition space.
The artworks present a dynamic shift between the individual and the detached collectiveness. The switch between the functional beam to the sculptural object becomes revered in its material translation. Within the form, the visible "I" connects to the self or subject of self-consciousness—the ego. The installation functions as a construction site that starts in the mind and becomes tangible: an act of constructing and reaching the self.
RANDI RENATE
Randi Renate (1991, San Antonio, Texas, US) is a sculptor and multi media artist. After graduating from the University of Texas at Austin 2014 with a BFA in Studio Art and a BA in Philosophy, she moved to Berlin where she has been living and working since. She has exhibited multiple solo installations in the United States and Germany including group exhibitions in Berlin and Texas. Randi believes that every architect secretly dreams of being a sculptor and vice versa. This fall, she will begin her MFA in the sculpture department at Yale University.
TRACE PROJECTS BERLIN
TRACE Projects is a new artist-run project space in Neukölln, Berlin, hosting exhibitions, screenings, workshops and other events dedicated to contemporary art and experimentation.