Relieving Patterns
Period: 21 July 2018 – 29 July 2018
Artist: Henrique Neves
Location: Trace Projects, Berlin, Germany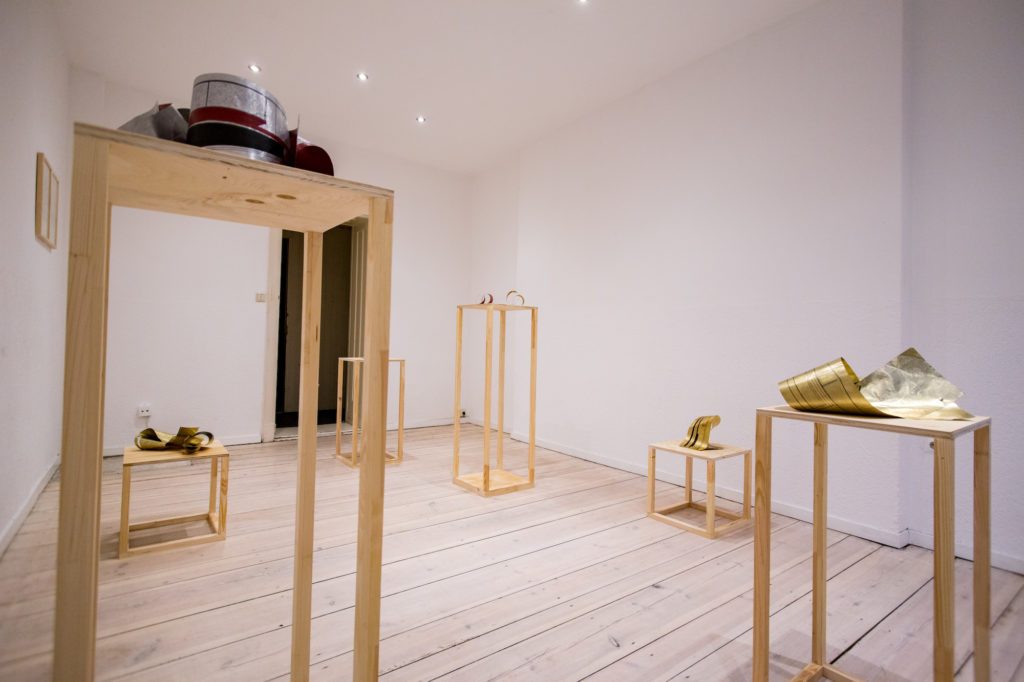 For his debut show in Berlin, Henrique Neves presents a group of new sculptural objects in brass and aluminium that simultaneously play with two and three dimensional representation.
Recently, Neves inherited a group of architectural drawings and plans from his grandfather's archive. Among these he recognised his primary school. Intrigued by the idea of working with these drawings, the artist started a trial and error process of transferring them onto metallic surfaces. Beyond the interest in the visual qualities of the plans, Neves engaged in a project of doubled memory: the first element being recollections of his childhood and schooldays, reaching a particular expression of the child's experiences into adolescence, and the second being the process of unveiling the archival, museum-like drawings. To the artist this material still carries traces of the relationship between himself and his grandfather, as well as their influence in the continuation of the family structure.
The process evolved into an exploration of architectural drawing, mediation with his grandfather's practice, but most of all, a desire to transform the plans into something less rigid whilst maintaining their original, untouched, quality.
Another influence in Neves' artistic practice is his great-grandmother, a seamstress. Her presence instigated the desire to reference needlework and fabric. As well as the architectural plans, Neves also took possession of his great-grandmother's patterns and templates for making shirt collars and cuffs and these inspired the forms the sculptural objects take. By manipulating the sheets of metal as one would mold fabric into a desired shape, the artist searches to unify these practices and forms anew.
Accompanying this personal narrative, social roles that are designated – or expected – by men and women in Portugal emerge and allow reflections on transformation. Neves has an ongoing interest in the subtle and slow alterations, that might been seen as an optimistic movement towards greater gender equality. A reflection into his own family – Neves is an artist and his sister was an architect – acts in clear juxtaposition to his ancestors. This becomes a microcosm of reconfigurations that are happening within contemporary Portuguese society, where relations between gender roles and professions are being challenged.
The sculptural objects sway visually between clothing references to architecturally modernist buildings and back again, altogether becoming an amalgamation of the two practices in a final object that is both fluid and solid. Beyond their aesthetic achievements, Neves' pieces surface from personal narratives to grasp all-embracing experiences from family, society and memory. From this point, the sculptural objects catalyse narratives that belong to the artist as much as they belong to us all.
HENRIQUE NEVES 
Henrique Neves (Lisbon, 1965) studied art in Lisbon (Maumaus, School of Visual Arts) and art theory in London (Goldsmiths College). He has exhibited in Portugal, France and the UK. Recently, he was one of the finalists of the MAC International 2016 (Belfast).
In his artistic practice, Neves quotes and appropriates personal/family memories and national narratives to transform and dislocate them, in a process that starts from something, an artefact, a given fact, or a single image that he transfigures in order to unravel meaning and emotion. Neves is a multi-media artist with a stark interest in manual processes and physicality, working with an array of every-day materials such as paper, textiles, wood, to create sculptures, drawings and installations.
TRACE PROJECTS BERLIN
TRACE Projects is a new artist-run project space in Neukölln, Berlin, hosting exhibitions, screenings, workshops and other events dedicated to contemporary art and experimentation.